Bus route update: Mr. Green's bus will leave campus at 1 pm today, Friday, January 21. Please call if you have any questions.

Hornet Food Pantry is open today until 3:30. Stop by the cafeteria anytime to pick up your pantry box!

Tomorrow night's home game against Mineral Springs is youth night. Any 3rd-6th grade pee wee player that wears their jersey gets in for FREE!!! Games will start at 5:30 with the Junior Girls and both senior high teams to follow! Come out and support our Hornets!
From the nurse: If you RECEIVED a letter about their child immunizations, please be working to get them up to date so their child doesn't miss any school. BMI/SCOLIOSIS screenings will take place next week. If you do not wish for your child to participate, please return either the form that was sent home, or send handwritten note signed by the parent (no phone calls will be accepted) by Monday, January 24.
Good Afternoon! Our varsity game for tomorrow has been moved to Thursday. That means the pee wee games for Thursday are going to be moved. I will let you know what the plan is. We still have junior high games tomorrow night starting at 5. So, Wednesday will be the only time the high school gym will be open. - Coach Kizer

Hornet Basketball Update: The home Mineral Springs basketball games scheduled for tomorrow night have been moved to Thursday, 1-20-2022, starting at 5:30. There will still be home junior high games tomorrow night against Umpire starting at 5. Only junior high teams will play against Umpire tomorrow night! Go Hornets!!!
District Announcement: Mrs. Sabrina's bus will leave today at 1:00 pm and will also leave early this Thursday, January 13 at 1:00 pm.
On Tuesday, January 11, Mrs. Sabrina's bus will leave early at 1:00 pm.

Don't Forget!! The Hornet Food Pantry will be open tomorrow, and every Thursday! Boxes of food may be picked up from 8:00am to 3:30pm at Blevins Cafeteria. Please call Ashley Dunham, Child Nutrition Director, for questions or to schedule a pick-up time! If you need to pick up the boxes in car-rider line.. let me know when you call! I will get them ready! My cell number is 870-826-5201. See you tomorrow!

HORNET BASKETBALL UPDATE!! *The JR boys, SR girls, and SR boys will travel to Kirby tonight for a conference game. *The Mount Ida game from 12/14 has been rescheduled for this Friday 1/7/2022 at 5:30. The JR boys, SR girls, and SR boys will play at home beginning at 5:30pm. Next week both Senior high teams will compete in the South Arkansas Shootout at Bradley. Go Hornets!!!!!!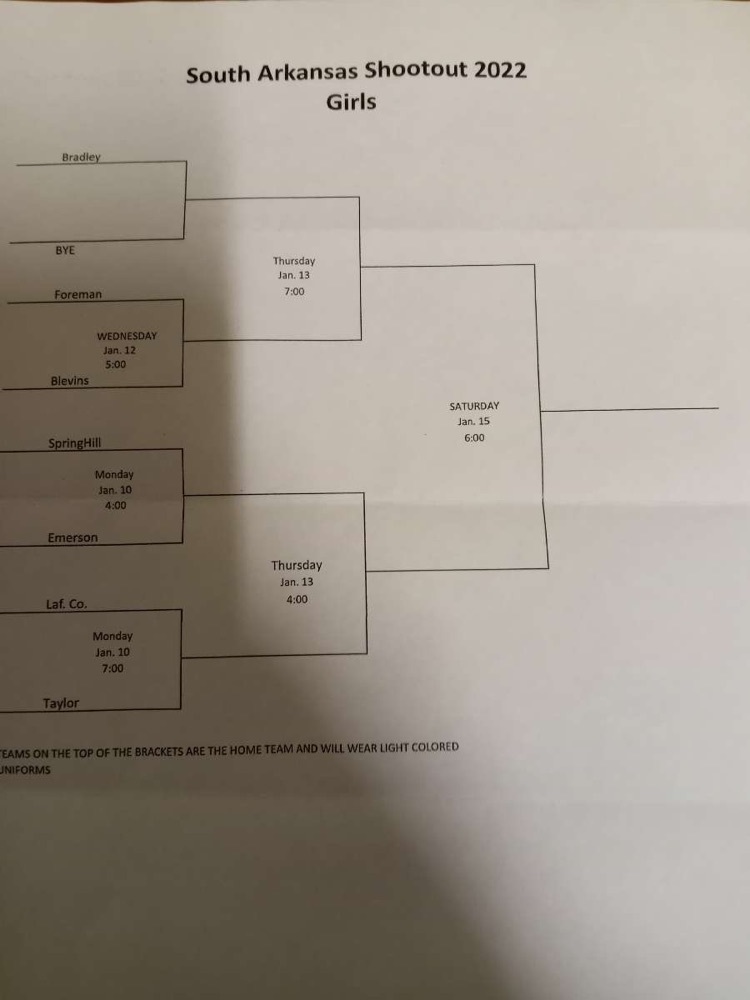 We are looking forward to welcoming all students back to class for the 2022 Spring semester!! Over the last couple of weeks, COVID-19 case numbers in Arkansas and across the country have increased. The CDC has issued new guidance for the general public; however, the Arkansas Departments of Health and Education have not made any changes to their guidance for schools at this time. State leaders will meet with school Superintendents tomorrow morning to discuss current COVID circumstances in Arkansas and any changes in guidance that might be needed. If they recommend any changes in protocols or procedures for our schools, we will communicate that to you promptly.

Reminder!! The basketball games scheduled for tonight have been cancelled and will be rescheduled for a later time.

The basketball games scheduled for tomorrow against Mount Ida have been postponed, and will be rescheduled for a later date!

Mrs. Williams 7th grade Family and Consumer Science class has been learning to sew this semester. Students came up with their own patterns, and sewed felt characters.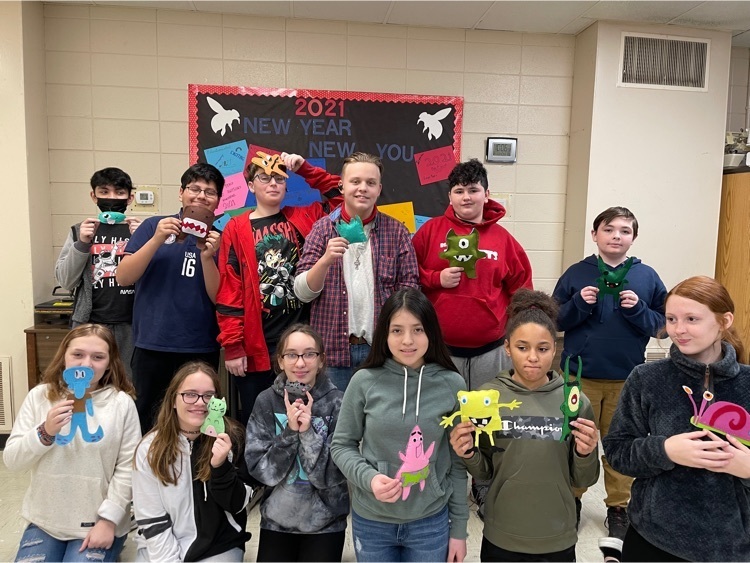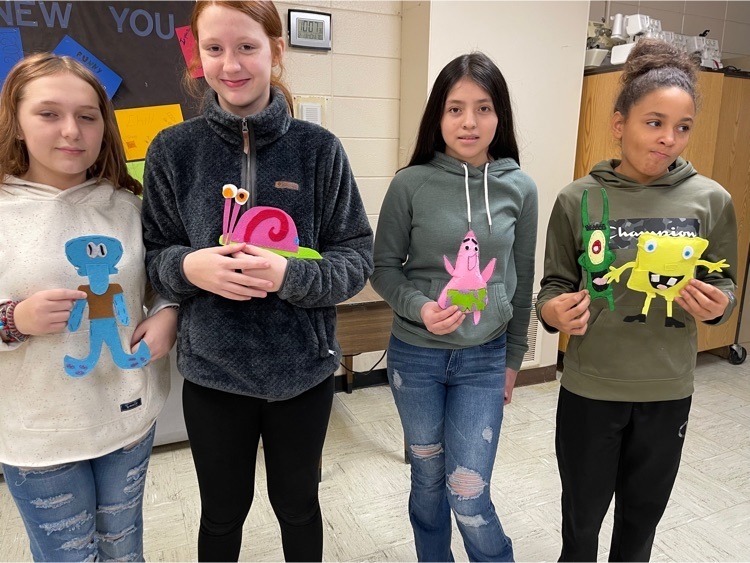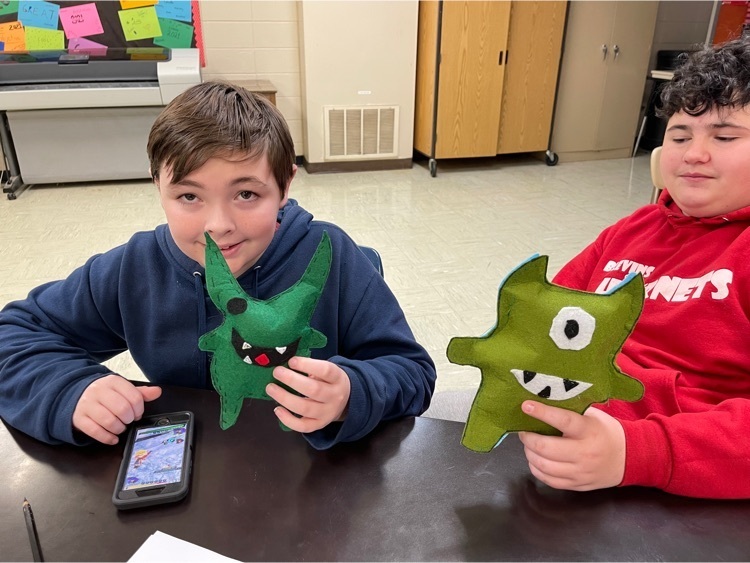 The Pee Wee Hornet basketball season starts this Saturday!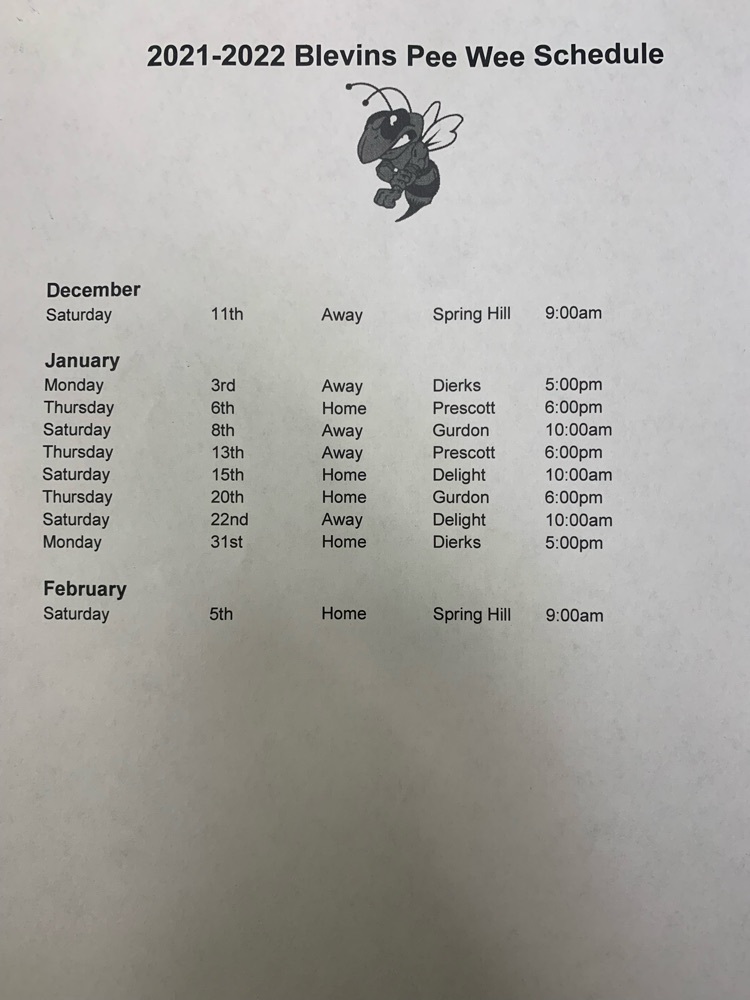 Tomorrow, December 8th, Mrs. Sabrina's bus route will leave campus at 1:30. All other routes will run a normal schedule.

The Senior high basketball teams will play in the Nashville Bankers Holiday Classic next week. Go Hornets!!!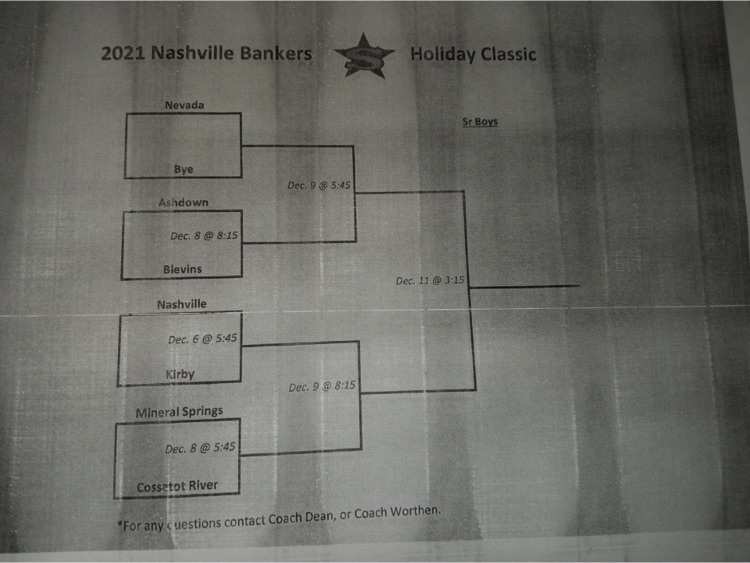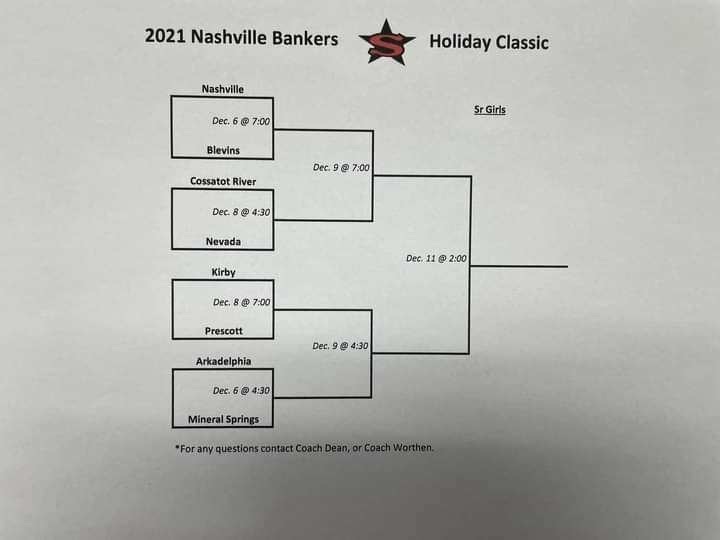 Blevins FCCLA competed in the District V STAR Events today. We also had 3 student judges that participated in judging the events.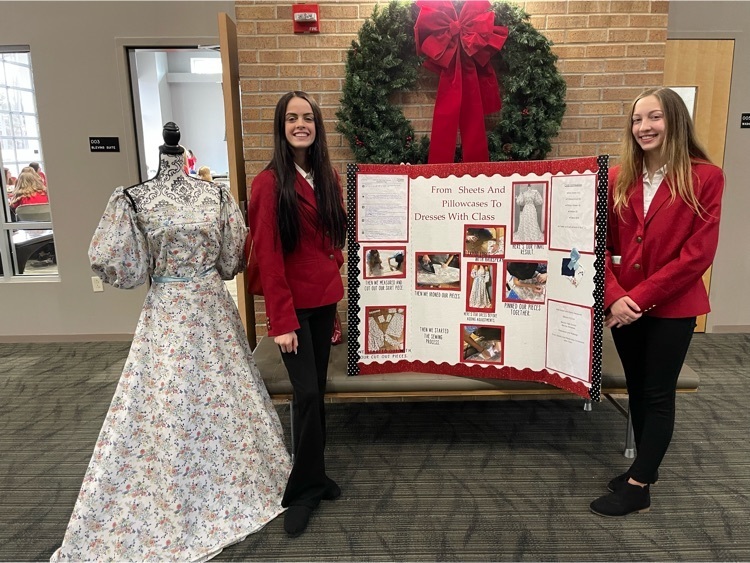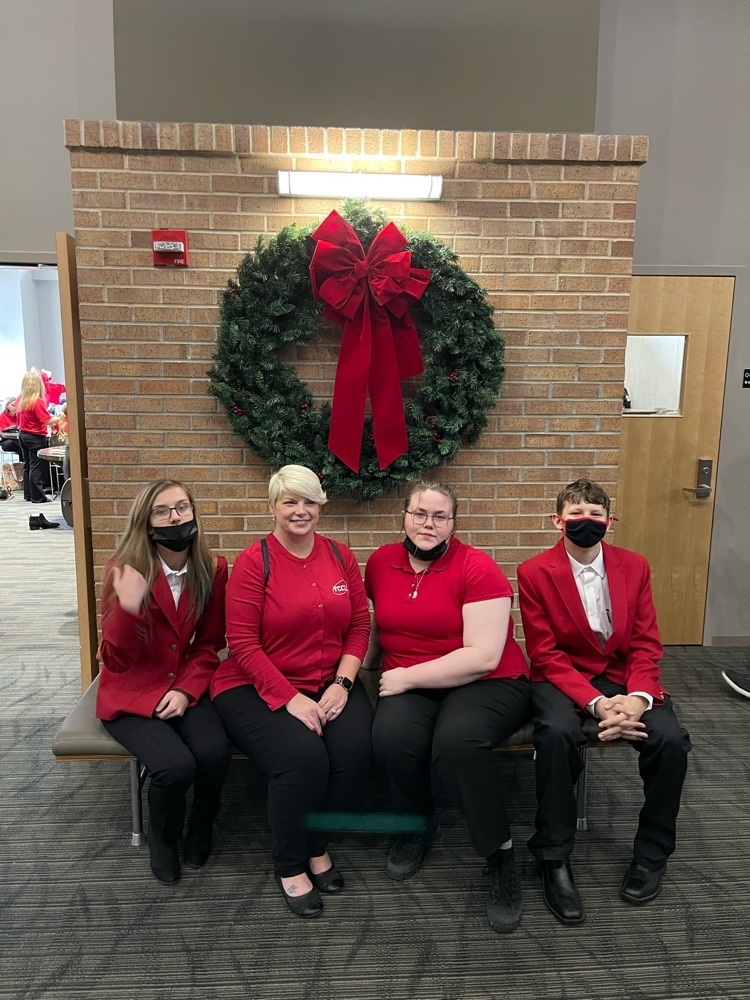 Homecoming Ceremony begins at 5:00 p.m. Following the ceremony the junior boys, senior girls, and senior boys will play against Taylor.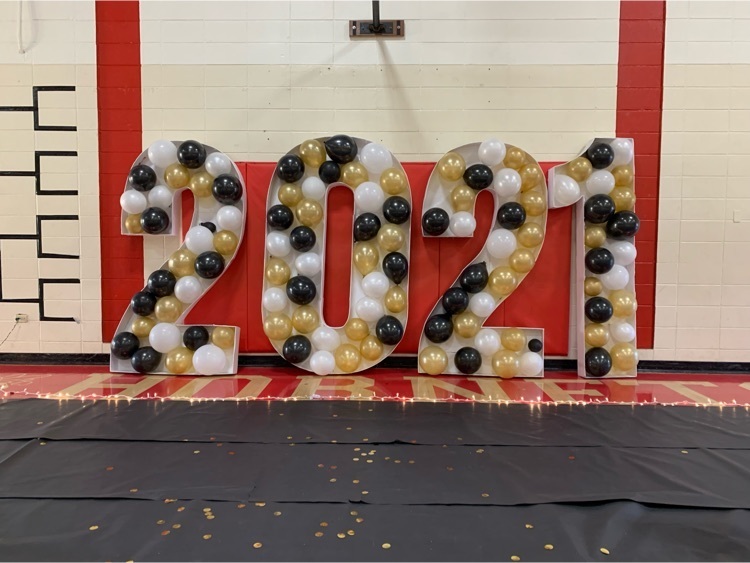 FFA Show Team Meeting