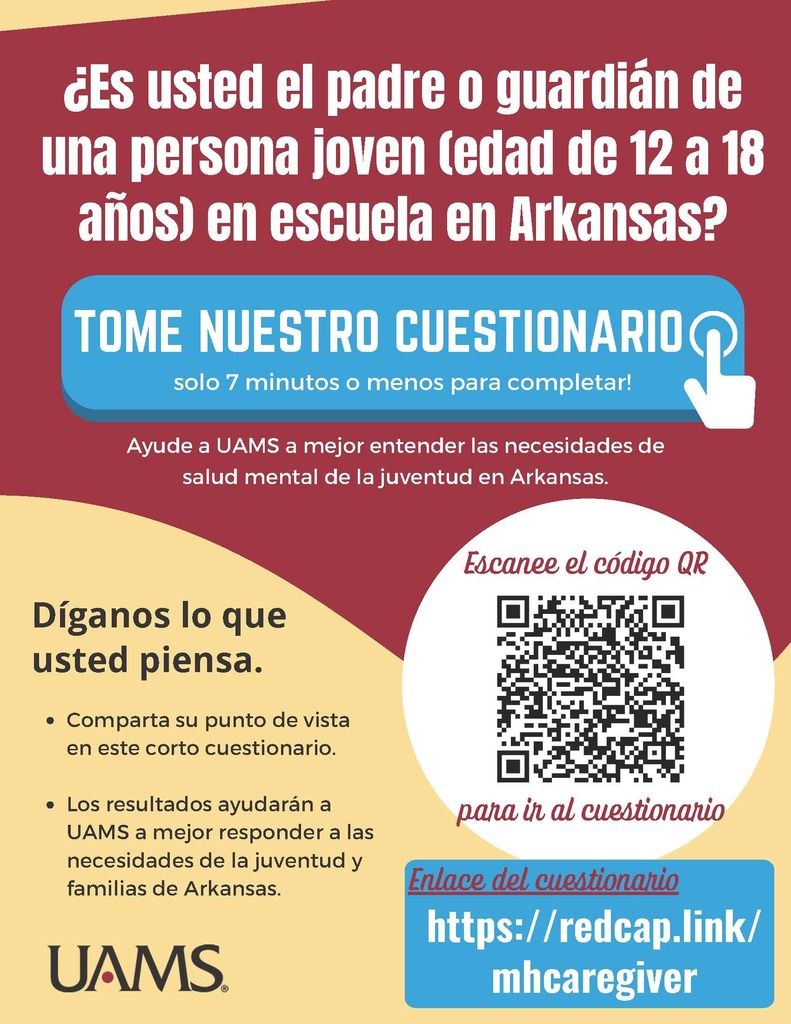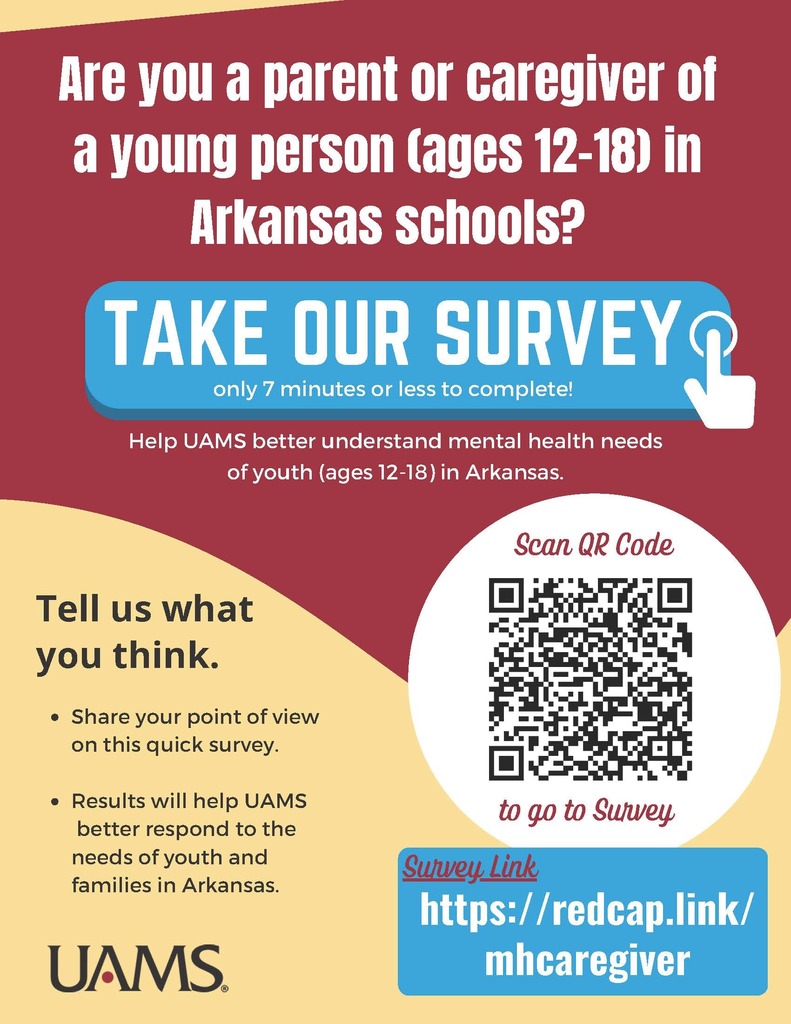 Due to the power outage and SWEPCO stating it will not be restored until 2:30, School will dismiss at 11:30am. Parents can come at any time between now and 11:30 to pick their child up.

Mr. Segovis's bus will dismiss at 4:00pm today.

The elementary baseball and softball registration has been extended through Thursday, February 16th. Registration forms are located in the elementary office.

Celebrate FFA Week.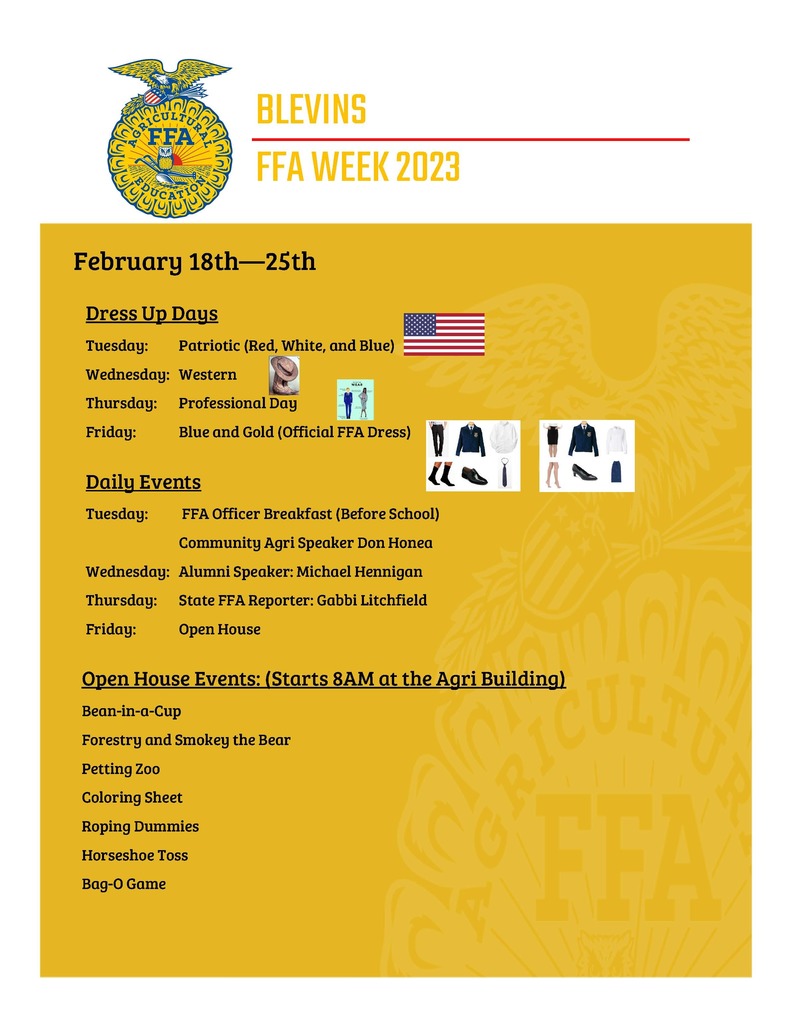 Everyone join our FFA Officers on the air tomorrow!! KMTB - B99.5 radio Nashville, AR Live on-air interview of the Blevins FFA officer team morning show with Jim Pinson 8:00 am 2/14/23

On Monday, February 13, Ms. Paula's bus route will run late in the morning. The bus will begin picking up students at 7:40am. Ms. Sabrina's bus will leave campus early at 2:30pm. If you have any questions please contact your building's office. Thank you!!

The mini cheer camp will be held Saturday, February 4, during halftime of the senior girl's basketball game. There will only be two basketball games this night (both senior high games). These games will start at 3:30pm. The basketball games against Poyen that were scheduled for Friday, February 10, have been cancelled.

The games scheduled for tonight, against Lafayette County, have been cancelled. The updated schedule for the remainder of this week is as follows: Friday, February 3, Elementary tutoring has been cancelled Friday, February 3, Home Game vs. Mount Ida. This will be Senior Night. Start Time is 5:00pm. Saturday, February 4, PeeWee Games at Home vs. Gurdon. Start Time is 9:00am. Saturday, February 4, Home Game vs. Lafayette County. Only the Senior Teams will be Playing. Start Time will be 3:30pm.

We will be monitoring the weather conditions in order to make a decision on whether to play Thursday night's basketball games. We should be able to make a decision by noon tomorrow.

Due to the potential of hazardous weather, the Blevins School District will be closed tomorrow, February 2. School will resume Monday, February 6.

Due to inclement weather, the Blevins School District will be closed tomorrow Wednesday, February 1.

Tonight's basketball games have been cancelled.

Due to the potential weather conditions moving into our area, we will dismiss school at 1:00 pm today.

ATTENTION STUDENTS AND FAMILIES OF THE BLEVINS SCHOOL DISTRICT: At this time, school is open today, Tuesday, January 31, 2023. Any alerts sent out prior to this one are fake. We are actively monitoring the weather conditions for today and will update as soon as any information changes. Thank you!

Good Morning Hornets! We have received many phone calls of concern regarding the presence of the Hempstead County Sheriff's office on the road in front of the school. The school is safe and we have not reported any concerns. We are being told the officers are conducting traffic stops this morning. This is new to us and we appreciate the added security measures this morning!! Please remember to wear your seatbelt, refrain from using your cellphone and follow the speed limit while in the school zone.

ATTENTION FAMILIES OF STUDENTS THAT RIDE MR. MARK'S BUS: This morning, Tuesday, January 17th, Mr. Mark's bus is running behind schedule. This route will be approximately 15 minutes behind. No other routes are affected at this time. We apologize for any inconvenience this may cause and we appreciate your patience and understanding. Thank you!

The senior high Hornets will be playing in the South Arkansas Shootout at Bradley this week! Go Lady Hornets and Hornets!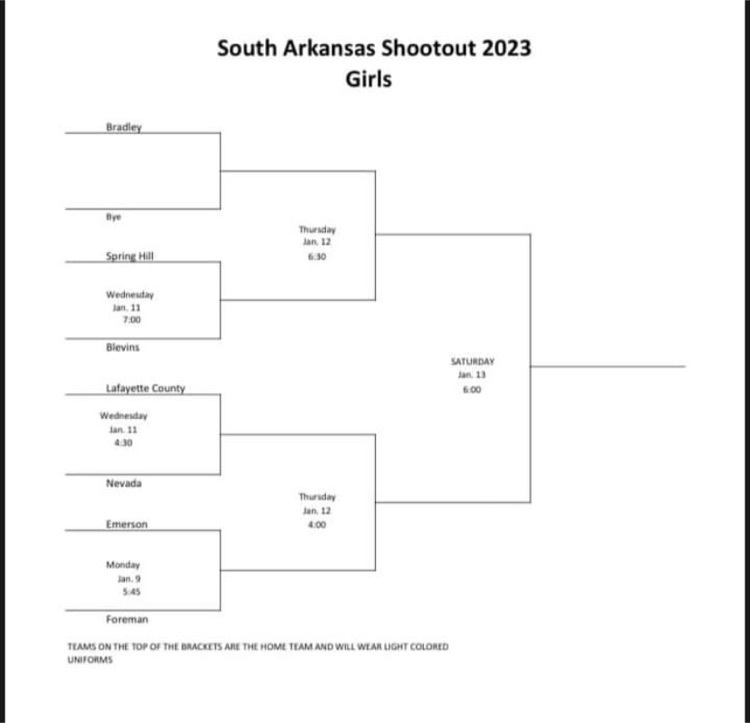 ATTENTION FAMILIES OF STUDENTS THAT RIDE MS. PAULA'S BUS ROUTE: Today, January 4th, Ms. Paula's morning bus route is running approximately 15 minutes behind schedule. Please contact your student's building office if you have any questions or concerns. Thank you!!

Add another 1st Place trophy to the GT trophy case!!!!! Killis Woodruff, Ben Webb, and Arely Diaz won 1st place in the GT Vlog competition. Their Vlog was about "Why Students Should Learn a Second Language" Pictures of the trophy coming soon! Way to go Hornets!