BSD: Monday, January 18th, the school will be closed for the Martin Luther King, Jr. holiday. Virtual students will not have assignments on Monday.
Mr. Evan's bus is running about 30 minutes late this morning.
Ms. Paula's bus will leave campus today at 1:30. Tomorrow Friday January, 15, Ms. Paula's bus will run approximately 1 hour late in the morning and will leave campus at 1:30 for the afternoon route.
Ms. Paula's bus will run approximately 1 hour late in the morning.
Ms. Paula's bus will run early this afternoon. The bus will leave campus at 1:30.
Due to the possibility of inclement weather, school will start at 10:00am tomorrow, January 11th.
Parents this is a reminder that we are no longer having blended Friday for students. Students are required to be on-site and attendance will be taken.

New Home Access Center(HAC) website has been updated and fixed on the website. This is for parents to be able to check grades at home. Login info will be the same and if you have forgotten or lost the log in, it can be reset from the HAC website. Below is also a link for the HAC site.
http://hac20.esp.k12.ar.us
Yearbooks are on sale now! Get yours today!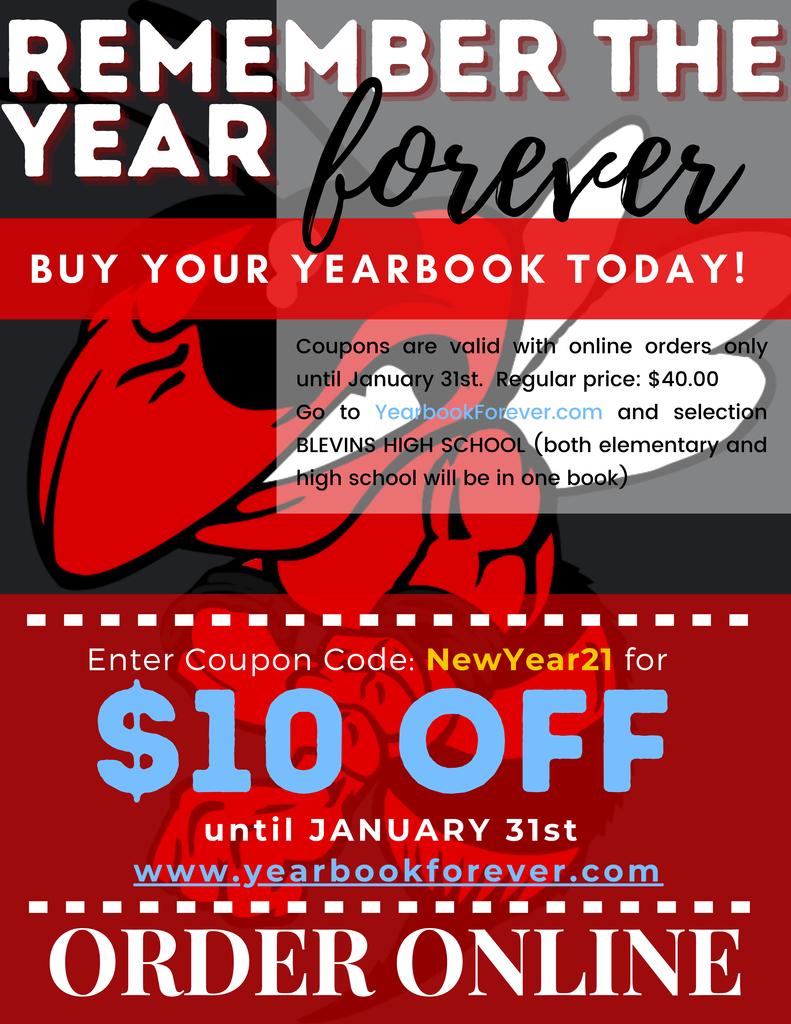 The week before Christmas break, 2 students, Ben Webb and Zoey Myers, from Blevins participated in the 2020 SWAEC Vlog Competition. Students were challenged with creating a vlog on a subject that they chose from a list of topics. Students then created videos expressing their point of view pertaining to the topic they selected. There were 17 entries from students in surrounding schools ranging from third to eighth grade. Ben Webb from Blevins, won first place in the sixth through eighth grade division. Ben also received a trophy for being the overall winner for scoring the highest points in the entire competition. Congratulations to Ben and a big thank you to all of the students that participated in the competition!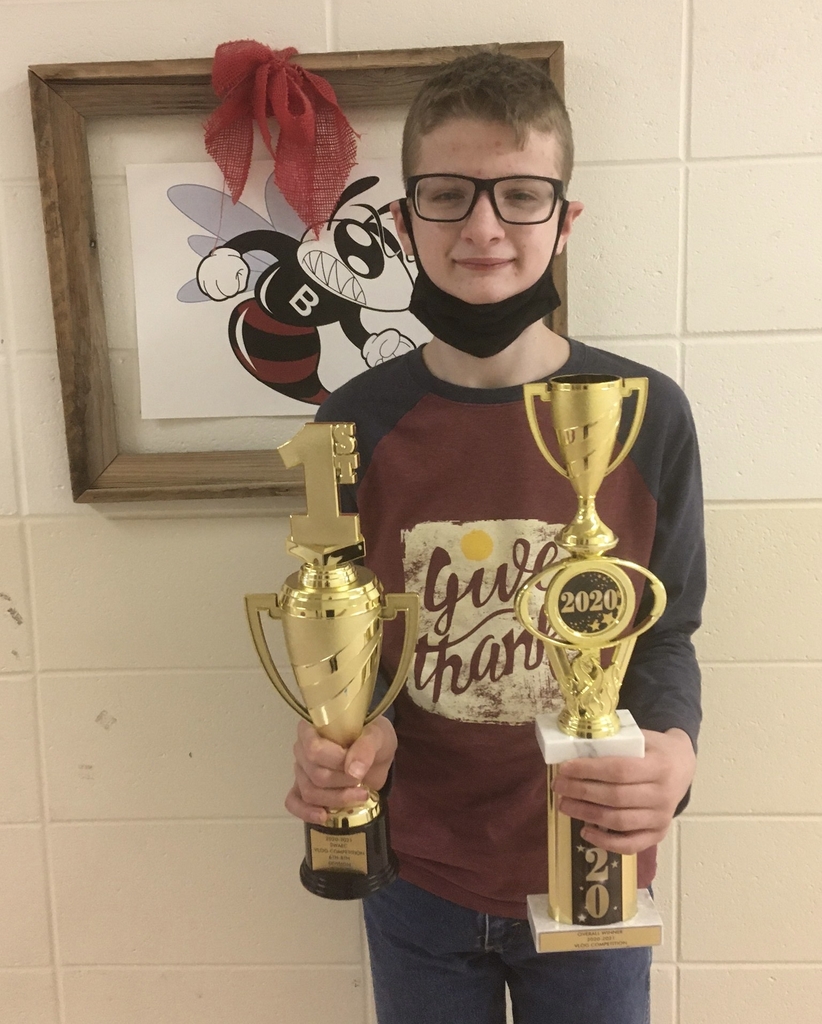 ATTENTION STUDENTS, PARENTS, GUARDIANS, AND COMMUNITY MEMBERS: School resumes tomorrow (1/4/2021). In an effort to continue to try to slow the spread of the COVID-19 virus within our staff and student body, we are asking all employees and all parents/guardians of students who will be in attendance on-site, to notify our designated Point of Contact immediately when the following occurs: • Someone in the household has tested positive for COVID-19; • Someone in the household has been identified as a Close Contact to a positive case of COVID-19 and is requiring quarantine and/or recommended to be tested for COVID-19. Students (attending on-site) and employees who are being tested for COVID-19 please remember: the student/employee should contact the designated Point of Contact and remain in quarantine while awaiting the results of their COVID-19 test. Please call Natalie Jones at 870-403-6706, or email information/questions/concerns to
natalie.jones@blevinshornets.org
. Thank you in advance for your cooperation. Together we can help keep our Blevins Hornet family safe and healthy!
Every donation helps❣️
Due to the weather, we will pivot to offsite instruction. The buildings will be closed and buses will not run. All teachers and administrators are available via email.
Reminder that Mr. Clifford's and Ms. Sabrina's bus will leave campus today at 1:30. On Friday 12/11 all bus will run at their regular time.
Mr Clifford's bus will run approximately 1 hour late and leave campus at 1:30 on Tuesday, Wednesday and Thursday of this week.
Mr. Clifford's bus will leave campus today at 1:30.
Mr. Stovall's bus is running late this morning
The basketball game scheduled for Friday, December 4, has been cancelled. The homecoming ceremony is still scheduled for Friday, December 4, at 5:00 p.m. in the basketball arena.
The main goal of the Blevins School District has been for our students to be able to participate in as many instructional and extracurricular activities as possible during these unprecedented times. The homecoming ceremony is still scheduled for Friday, December 4, at 5:00 p.m. in the basketball arena. In order to host this event, we must abide by the following guidelines: This event is not open to the public. Due to maximum seating capacity requirements set by the Arkansas Department of Health, each homecoming participant will be allowed ten admittance vouchers. Vouchers for all ten guests will be included on one voucher sheet. All ten guests must enter the basketball arena at the same time and remain seated in their group's designated area. Every other row will be roped off to keep six feet of physical distance from other groups. Seating is on a first come, first served basis. The basketball arena will open at 4:30 p.m. There will not be a basketball game following the homecoming ceremony. Admission will not be taken. Face coverings are required for all guests and they must be worn throughout the homecoming ceremony. Face coverings will not be provided. During and after the homecoming ceremony, guests will not be allowed on the arena floor to take photos. Congregating will not be allowed before, during, or after the homecoming ceremony. Once the ceremony is over, guests must promptly exit the basketball arena. Thank you for your patience and understanding in all of the details that are required for us to be able to hold this event.
Please support if you are able ❣️